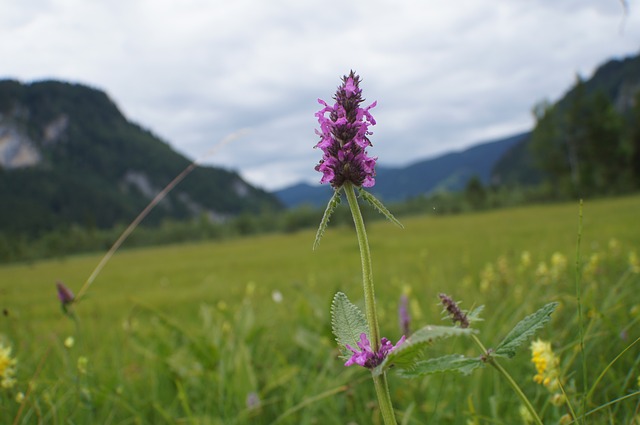 Betony is a perennial plant, 30-100 cm tall. The stems are four-sided. The leaves are oppositely arranged, elongated ovoid with a toothed edge, without leaflets. Flowers pale purple. Blooms in June-August, ripens seeds in August-September.
All parts of the plant have medicinal value. The above-ground part of the plant is collected during the flowering of the plant, the tops of the plants are cut to an average length of 30 cm. Roots are dug in autumn. The drug is dried in a shady and well-ventilated place or in forced dryers at a temperature of 40-50C. The finished drug is stored in paper bags for no longer than 2 years.
Betony is a plant rich in essential oils with a complex composition (aromatic substances: alcohols, phenols, terpenes, aldehydes, ketones and other organic compounds). Tannins, bitter substances, alkaloids, proteins, resins, mucilages, flavonoids, betaine, betonicin, pigments, vitamin K and C, calcium salts and organic acids have been found in the surface part of the plant.
Medicinal significance
The medicinal properties of the Betony have been studied relatively little. However, regardless of this, the plant has well-defined pharmacological properties (anti-inflammatory, wound-healing, expectorant, bleeding-stopping, bile-repelling, urinary-repelling, diarrhea-promoting, calming, sedative, etc.), which can be used in the treatment of various diseases. The strengthening properties of the plant body can be used after various serious illnesses. Medicinal herb also have a beneficial effect on metabolism and digestion. Also, the medical treatment lowers arterial blood pressure and improves blood circulation.
The beneficial effect of the medicinal question in the treatment of colds, bronchitis, pulmonary tuberculosis, cough and sore throat has also been noticed.
Although in pharmacology, this plant has been little studied, it has been used in folk medicine for a long time, and even more widely, as an expectorant, sedative, analgesic, choleretic, bleeding-stopping and antiseptic agent. In ancient times, the flowers of this plant were used to strengthen the nerves, relieve headaches and treat various feverish conditions. The plant helps to prevent chronic fatigue, increased excitability, it also helped in the treatment of heartburn, cough, gout, throat, liver and stomach diseases, as well as many other diseases. Medicinally, the root of fennel was used as a laxative and emetic agent.
Modern folk scientists also consider this plant universal and use it in the treatment of various diseases. It is used to treat respiratory, lung and bronchial infections, digestive organs, angina, stomatitis, periodontitis, skin diseases and conjunctivitis.
Root decoctions are used in the treatment of nervous diseases, weakness, lack of appetite, liver and kidney diseases, gastritis and colitis. The above-ground part of the plant is used to improve metabolism, reduce blood pressure, reduce fainting attacks, hysteria, improve blood circulation, in cases of lung and uterine bleeding, treat colds, get rid of chronic cough, asthma, especially pulmonary tuberculosis.
Tea made from the Betony leaves of this plant is recommended for elderly people with atherosclerosis, high blood pressure and loss of strength.
Fresh, crushed leaves are used as applications for wounds and ulcers that do not heal for a long time. It is also used externally to treat rheumatism and tumors.
In dermatology, the extract is used orally to treat eczema, scleroderma and psoriasis. Foot baths can also be prepared from the plant to reduce sweating of the feet. In case of skin cancer, make hot applications from the rhizome of this plant.