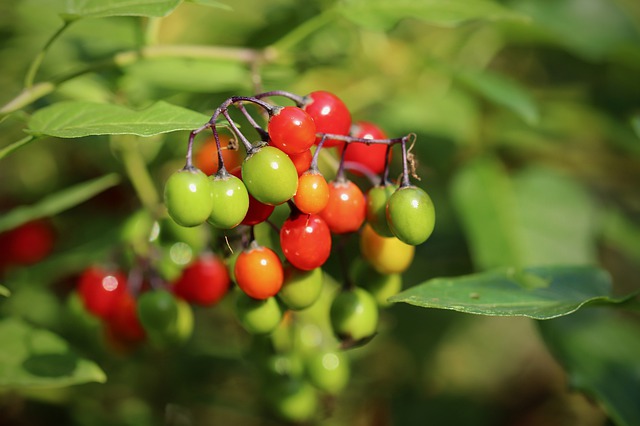 Bittersweet is a perennial plant, its stem is climbing up to 1.8-2 m long. In the lower part it is overgrown. The leaves are 5-8cm long and 3-5cm wide, arranged alternately, on stems, elongated-oval, pointed, usually heart-shaped at the base. Flowers of regular shape, lilac or violet, 8-15 mm in diameter, wide open. The plant blooms from June to September. Fruits - egg-shaped, bright red berries.
Medicinal importance lies mainly in the young shoots (stems and leaves), as well as the fruits. The young tops of Bittersweet are collected at the beginning of flowering or during flowering. Dry in a shady, well-ventilated area. The plant is stored for up to one year, away from the drug of other plants, because this plant is poisonous.
Bittersweet has a valuable chemical composition. It contains: glycoalkaloid solanine and other alkaloids, steroidal saponins and triterpenoids, glucoside dulcamarin, tannins and bitters, carbohydrates, carotenoids, fatty acids and phenolcarbonic acid, citric and ascorbic acid, choline, phospholipids, flavonoids and tannin.
Medicinal significance
Bittersweet has a wide range of medicinal effects, it has antispasmodic, pain-relieving, anti-inflammatory, choleretic, urinary, bile and diaphoretic, expectorant and diarrhoea, astringent and insecticidal properties. The plant helps to heal wounds, get rid of helminths, and organize digestive processes.
In folk medicine, Bittersweet is one of the most popular remedies due to its wide range of effects. Preparations (depositions and decoctions) prepared from the betel nut are used to treat: infection and respiratory diseases (catarrh, colds, flu, bronchitis, tonsillitis, otitis media, asthma), skin diseases (dermatitis, itchy eczema, psoriasis, scabies, allergic skin reaction and skin inflammation), metabolic disorders, lumbago, bladder diseases (cystourethritis), weak and irregular menstruation, gout, edema, jaundice, whooping cough, scrofulosis (external), bone diseases, rheumatism, diarrhea, stomach spasms , various tumors (alcohol extract), diseases of the oral cavity and teeth and conjunctivitis. It is also used as a wound-healing and helminth-repelling agent.
In folk medicine, a decoction of Bittersweet berries is also used to relieve epileptic attacks, treat migraine, dizziness, mental irritability, depression, neuralgia, facial and optic nerve paralysis, convulsions, venereal diseases (STDs). Decoctions of flowers are used to treat lung diseases. Externally, crushed leaves are applied to treat burns.
The plant can be used for excessive sexual arousal as a sedative.