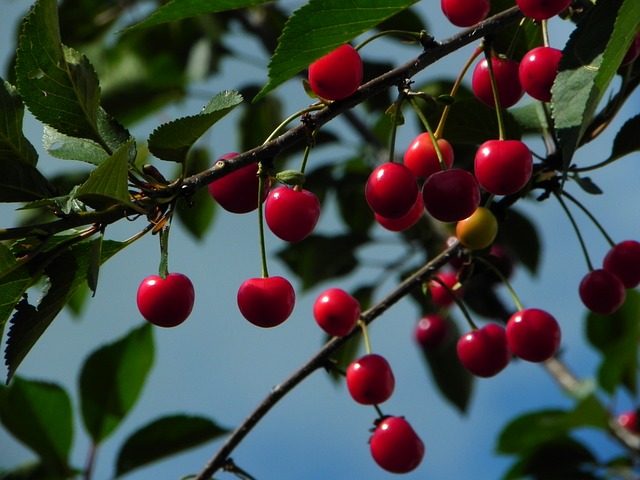 The cherry is found as a large bush or tree, 1.5-4 m tall with an almost round crown. New shoots are often formed around the cherry, which grow from the root system of the mother plant.
Leaves simple, arranged alternately, on short petioles, with leaflets that quickly fall off, elliptic with a pointed tip. Serrated along the edge, glabrous, dark green on the top, lighter on the bottom with a strong cuticle system and wax coating. Flowers actinomorphic, bisexual, large (dia. 20-25mm) on long flower stalks, arranged in shield-shaped inflorescences. The flower is formed from 5 free, white leaves.
The fruit is a juicy drupe. It blooms in April-May- until the leaves appear. The fruits ripen in June-July.
Cherry fruits, fruit stalks and leaves are used for medicinal purposes. The fruit stalks are usually separated from the fruits and leaves, then they are dried separately not exceeding 60-70C. Fruit stalks do not have their own smell, the taste is bitter and astringent. The leaves can be dried spread out on paper or well-ventilated sieves, of course they can be dried in forced dryers. Fruits can also be dried, but they will be more valuable fresh. Storage of dried mass is possible in dense paper bags or glass containers.
Cherry fruits contain up to 13-15% sugar, anthocyanins, pectins 11%, organic acids (malic, citric, succinic and quinic acids), tannins, carotene, ascorbic acid, vitamins B, PP, folic acid, minerals (copper, potassium, iron, magnesium), as well as coumarins. Chrysanthemum and mecocyanin have also been extracted from the fruit. Fruit pits contain vegetable fat (25-35%), a lot of poisonous glycoside amydalin and essential oil. Tannins, flavonoids, catechins, glycosides (fuscofloben, rubroflobafen, as well as citric acid) are found in the bark of the plant; in leaves - citric acid, tannins, quercetin, amygdalin, coumarins. Tannins, dyes and other little-studied compounds are found in the fruit stalks.
Medicinal significance
The spectrum of medicinal effects of cherry fruit pulp is very wide: it can increase the hemoglobin content in the blood, lower blood pressure, strengthen capillary walls; act as a preventive measure against thrombosis, heart attack, stroke, exacerbations of arterial atherosclerosis, angina attacks; used directly to treat arthritis, gout, epilepsy and bronchitis - as an expectorant, in case of colds, as a fever reducer. Cherry fruit also has a beneficial effect on the nervous system and brain; helps fight staphylococci and streptococci. Fruits can also be used in case of constipation, as they contain pectin substances that improve intestinal peristalsis.
Cherry fruits are also recommended for pregnant women, because they contain folic acid, which helps the formation and development of the embryo, and also helps to deal with anemia that can occur during pregnancy.
Fresh fruit juice is useful for treating arthritis, high temperature, and for preventive purposes against many diseases. The juice also helps fight dysentery agents, intestinal bacilli and infections caused by putrefactive processes. In addition, juice has a low calorie level, which has a beneficial effect on metabolic processes.
The fruit of cherry is used as a diuretic product that promotes appetite, improves digestion, reduces thirst and acts as a laxative. Iron and oxycoumarins normalize blood coagulation processes, prevent the formation of blood clots and are considered good preventive measures against heart attack. Fruit juice and pulp have antiseptic properties. Organic acids have a refreshing effect, stimulate the appetite, irritate the digestive organs, stimulate the release of digestive secretions, and also speed up and improve food digestion processes. Cherry leaf juice can be used to stop various types of external bleeding.
There are studies that indicate that the aqueous extract of cherry fruit has a sedative and antipyretic effect.
Experiments have determined that cherry leaf extract has antioxidant properties. This extract also produces antiviral effects.
The fruit stalks are used to prepare remedies that have diuretic, hemostatic and stone-dissolving properties. Cherry leaves are used to stop external bleeding.
It is good to know that you can also collect gum (resin on the trunks) from the cherry and use it as a coating and treatment for the digestive tract. In case of chronic colitis, it is recommended to use decoctions of young leaf shoots. You can also use cherry peel if you have had seafood poisoning. Less commonly, but still, cherry roots are also used to treat stomach ulcers.
Cherry leaves are useful both fresh and dried. A tea can be made from the leaves, an extract with anti-bleeding effects. Cherry leaf tea helps prevent inflammation of various origins. The extract will be valuable, on the other hand, in case of hypertension and heavy bleeding (nosebleeds, menstruation). A decoction can also be made from the leaves, which is recommended to treat liver diseases, including gallstones and hepatitis.
In folk medicine, cherry has also gained popularity and is widely used. The fruit of the cherry is used for anemia and fever. In case of inflammation of the respiratory tract, fruit pulp and juice are used as an antiseptic and expectorant.
In ancient times, cherry was used to treat disorders of the nervous system, and a decoction of the fruit was used to treat epilepsy and mental illnesses. Arthritis was treated by mixing cherry fruits with milk. In case of heavy menstrual bleeding, dysentery and edema, cherry fruit stalks were used as a bleeding stop and strong diuretic.
A decoction of fresh leaves in milk was used to treat jaundice. Fresh leaves were rubbed into a paste and placed on bleeding wounds, and cloth swabs were wrapped and placed in the nose to stop bleeding.
Cherry seed emulsion was used as a diuretic with a recommendation to use it for the treatment of uric acid diathesis and joint diseases. A decoction of cherry twigs is very useful for chronic colitis, fever and flatulence. Cherry gum (gummy), which oozes from cracks in the bark, is used to treat skin rashes.