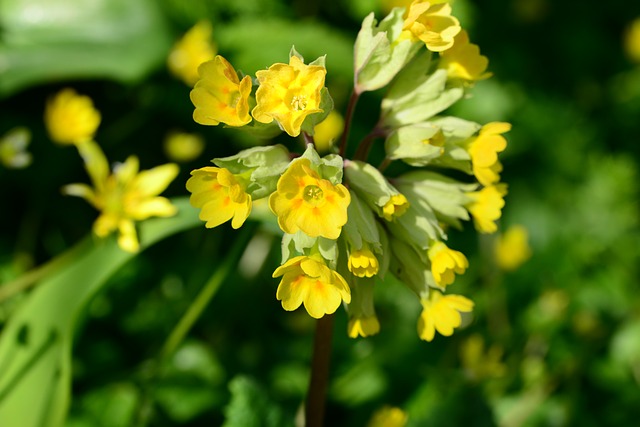 Cowslip is a perennial plant from the Cowslip family (Primulaceae). The plant has unique medicinal properties that are widely used in both traditional and non-traditional medicine. Aboveground and underground parts of the plant are used in medicine.
The stem is straight, vertically raised, round and without leaves, grows up to 25 cm. It has a dense and juicy root system with many branches. Its leaves grow from the rhizome, in the form of a rosette. The flowers are aromatic, dull yellow in color, arranged in a group at the top of the stem. They all point in the same direction. Flowering often begins before the snow has completely melted and continues until June.
The leaves and roots of the plant have medicinal value. The leaves are collected during the flowering period of the plant and dried in dryers at a temperature of 50-60C, or spread on sieves in a well-ventilated and shaded place. Rhizomes and roots hand in autumn or early spring. Dry on sieves or in forced dryers at 50-60C. The dried drug does not have a characteristic smell, it has a slightly bitter taste. The drug can be stored for two years.
Cockroaches contain saponins, flavones (biologically active colorless or slightly yellowish compounds), essential substances, silicic acid, tannins, vitamins C and A, carotene, ascorbic acid, glycosides, alcohols and manganese salts.
Saponins 5-10%, essential oil 0.08% and glycosides: primulaverine, primverine, which belong to triterpene compounds, have been found in the roots of the plant. Saponins and flavonoids are found in the leaves. Flowers and leaves are rich in vitamin C (up to 500 mg%), respectively, in dry drugs - leaves contain 5.9%, flowers 4.7% ascorbic acid. A small amount of carotene has also been found in the leaves and root.

Medicinal significance
The underground part of the plant contains much more valuable substances than the surface part, so the root is also used in traditional medicine.
In medicine, this plant is used mainly in the treatment of respiratory tract. The following properties are attributed to Cowslip in medicine:
Sweaty;
Diuretic;
Expectorant;
Strengthening;
Pain reliever;
Sedative;
Anti-inflammatory;
Diarrheal.
Preparations containing Cowslip stabilize the function of the adrenal glands, normalize the function of the alimentary tract, help remove sputum from the lungs, and treat diseases of the urinary bladder and kidneys. Helps with exhaustion, fatigue, migraines, weakness and disturbed sleep. Cowslip also help to improve appetite.
Fenugreek root is used to treat:
Tracheitis, laryngitis, bronchitis, lung inflammation, tuberculosis and asthma - as an expectorant;
Constipation- as a laxative;
Urinary system and kidney diseases - as a diuretic;
Paralysis, rheumatism, convulsions - as a sedative and pain reliever;
Colds - as a general strengthening and immune system stimulating agent;
Bruises and skin diseases - in the form of compresses.
Decoctions and juice of the surface part of Cowslip are used in the following cases:
Pneumonia, bronchitis, angina;
Sleep disorders, fatigue, weakness, lack of appetite;
Paralysis, joint rheumatism, convulsions;
Avitaminosis - especially in case of scurvy;
Gum disease;
In case of diseases of the organs of vision;
In cases of esophageal problems.
The leaves of this plant are also recommended by traditional healers for use on cuts and injuries, as they have strong antimicrobial properties and the ability to help regenerate cells.
It is good to know that if you eat two fresh leaves of Cowslip during the day, you will receive a full daily dose of vitamin C.
Dermatologists recommend using this plant for various skin diseases, but especially for psoriasis and scabies. With a decoction of Cowslip you can take care of the skin in case of acne and furunculosis. It is also recommended to use this decoction in the bath, every time you go to bathe.