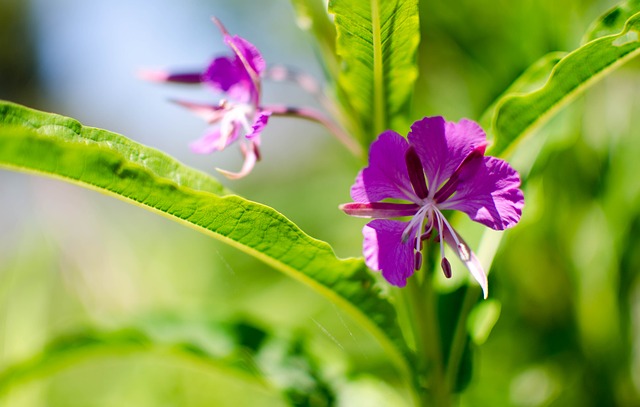 People tend to be interested in why this plant is called a rosebay Willowherb, why should it be more correctly called a cyprea. Everything is very simple, this plant grows very well in places where there was a fire and coals and ashes remained on the soil.
Rosebay Willowherb is a perennial, tall plant (50-180cm). It has a thick creeping root usually up to 1m long, the stem is cylindrical, little branched and strongly leafy. The leaves are lanceolate, from 5 to 12 cm long, 0.7-2 cm wide, with distinct veining, dark green on top and greenish below. The plant has large flowers (up to 3 cm in diameter), distinctly pink, purple or purple in color, and in very rare cases they are also white. It is interesting that the flowers of this plant open every morning from 6-7 am.
The seeds of the plant are formed in long (5-9cm) pods, with elongated seeds that are covered with fluff - so that the wind can sow them more easily. The plant blooms from the end of July to the middle of August, rarely until September.
Rosebay Willowherb leaves and flowers are collected for medicinal purposes. In the literature, it is often described that it is necessary to harvest during flowering, but I, based on my experience, can safely recommend harvesting before flowering - closer to Summer Solstice (Līgo).
It is recommended to dry the collected flowers on sieves in a shady and well-designed room. Then they can be used like any other tea.
It is recommended to initially twist the collected leaves a bit, then twist them between your hands so that the juice comes out and let them ferment for at least 12 hours (>25C). Fermentation can be done in different ways, others recommend simply covering the leaves with a wet cloth, I myself usually pile them in a larger container and cover them with cling film. The leaves will begin to emit a pleasant fruity aroma as they ferment, this is the moment when they can be already dried - you have to be especially careful here to achieve the effect of black tea, then usually dry at 100C, but this will also affect the value of the plant, so I recommend not to exceed 35- 60C temperature. Store tea in a dry place - in wooden containers, glass containers or cloth bags.
| | | |
| --- | --- | --- |
| Type of activity | Optimum temperature (allowable) | Effective time |
| Light fermentation* | 37C (24-45C) | 3-6h |
| Medium fermentation** | 37C (24-45C) | 6-24h |
| Strong fermentation*** | 37C (24-45C) | 24-48 hours |
| Stopping the fermentation | 90C | 2h |
| Drying | 35-60C | Until dry |
| Caramelization**** | 130C | 0.5h |
| Maturation of tea***** | 15-30C | >30 days |
* as a result of light fermentation, a mild taste and strong aroma of tea is achieved.
** during medium fermentation, the aroma diminishes, but the tea acquires a slightly astringent taste.
***during strong fermentation, the aroma of tea is strongly reduced and an astringent and slightly sour taste is obtained. When using deep fermentation, you have to take into account that the tea can be spoiled - it can start to mold and become unpalatable when it turns sour.
****caramelization gives a special taste and aroma to the tea by expelling all the sugars from the plant and caramelizing them. This process is unfriendly to the plant, but gives the tea its distinctive flavor characteristics.
*****tea ripening is like the final process in tea preparation. When the tea dries, put it in a cotton or linen cloth bag and put it in a cardboard box. It is recommended not to press the bag, but to shake it when filling so that the tea settles more densely. Place the box in a dark, dry and odor-free, warm place (room temperature). The tea will enter and acquire a full-fledged aroma, because the moisture of the environment will enter it and various chemical processes will continue.
You can also collect rosebay Willowherb roots in autumn. The roots are dried at 65-70C.
Rosebay Willowherb and leaves can be stored for 2 years, roots for 3 years.
A lot of tannins (up to 20%), mucilage (up to 15%), flavonoids, pectins, alkaloids, ascorbic acid (up to 338mg%, which is three times more than in orange fruits), sugars, organic acids, minerals have been found in the leaves and roots of the rosebay Willowherb . Salts (iron 23mg%, manganese 16mg%, boron 6mg%, copper 2.3mg%, nickel and titanium up to 1.3mg%, molybdenum 0.44mg%). The roots of the plant have no tannins and less mucilage.
Medicinal significance
Thanks to the tannins and mucilages present in the plant, the plant has astringent, wound healing, anti-inflammatory and covering properties.
There are cases when rosebay Willowherb leaves are dried without fermentation, here it is worth remembering that whole leaves have a lower anti-inflammatory effect than leaves that have been crushed. It is associated with the combined effect of tannins and mucilage.
The plant also has a sedative, antipyretic and antipain effect. Rosebay Willowherb -containing preparations are low-toxic.
Rosebay Willowherb leaves are used for headaches, metabolic problems and stomach ulcers (more effective if hot water is poured over the flowers and drunk as tea). Fresh leaves of the plant can be crushed into a paste and applied to the wounds, which will allow them to heal quickly. Decoctions of leaves are used to treat scrofula, stomach diseases and are also used as sleeping pills. It will also help with ear, throat and nose inflammation.
Rosebay Willowherb tea is the most effective remedy for prostate adenoma. The water or alcohol extract of the rosebay Willowherb strongly helps against inflammation and has a healing effect on acute and chronic prostate diseases, adenoma, ovarian inflammation and chronic bladder inflammation. It is also recommended as a safe therapy after prostate surgery.
This plant is also widely used in dermatology. It treats psoriasis, scabies, neurodermatitis, eczema, itching and spasms caused by allergic skin diseases - especially in children. Rosebay Willowherb powder can be safely applied to sores and wounds.
An interesting fact is that this plant can also be used in food - the young shoots and leaves are used in salads, soups and as a seasoning for meat dishes. Also sweet rhizomes - fresh and boiled, dried and fried can be used equally with coffee. In the Caucasus, the root is used to make flour and bake bread, as well as to prepare alcoholic beverages. Rosebay Willowherb is an excellent honey-bearing plant. And of course, fermented and dried leaves are used as tea.
In folk medicine, rosebay Willowherb tea is used for colitis, gastritis, stomach and duodenal ulcers, headaches and insomnia, bleeding, anemia, and acute respiratory diseases. It is also used to rinse the throat in case of angina, wash wounds, ulcers and bedsores.
Fresh, crushed leaves can be used for compresses on slow-healing and festering wounds. In folk medicine, rosebay Willowherb are also used to treat gonorrhea and syphilis. Rosebay Willowherb tea (especially fermented) is used to treat epilepsy, alcoholic psychosis, anemia, as an emollient and diaphoretic in colds, and is also a good remedy for all types of malignant tumors.