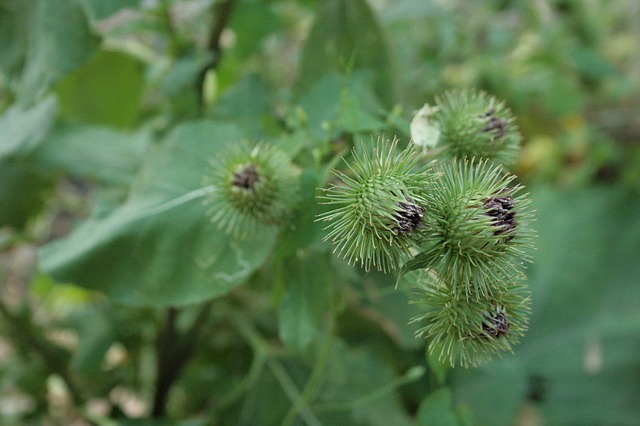 The large burdock is a biennial plant, 60-180 cm in height. It has a sparsely branched root system. The root is fleshy, reaching a depth of 60 cm. The stem is grooved, straight, strongly branched at the top. In the first year, the plant forms a rosette of root leaves. In the second year, it develops upright stems with subordinate, flat-ovate, gray-velvety leaves from the underside. The flowers of the big burdock are purplish-violet, tubular, bisexual, in bulbous baskets (3-4cm in diameter). The big burdock blooms from July to August, the fruits ripen in August-September.
For medicinal purposes, the fleshy roots of the big burdock are used, from the first year of the plant, they are dug in September-October. The roots are rinsed in running water, then they are cleaned from the leaves and cut into pieces of 10-15 cm. The roots are dried in the fresh air, or in well-ventilated rooms, if necessary, drying is completed in forced dryers at a temperature not exceeding 40-45C. The leaves of the plant are also often collected, they are prepared in July-August, dried in the shade or in well-ventilated rooms. The seeds of the plant are collected at the moment of their ripening.
The roots of milk thistle contain up to 45% inulin, burdock essential oil up to 0.17%, as well as palmitic and stearic acid, sitosterol and stigmasterin, tannins, bitter substances and fatty substances. Mineral salts, sugar, organic acids (caffeic acid, malic acid, citric acid), group B vitamins, proteins (up to 12%), especially high content of ascorbic acid. Glycoside arctin and vegetable fat (up to 20%) are found in the seeds; in the leaves - essential oils, tannins, ascorbic acid and carotene.
Medicinal significance
Preparations from large burdock promote rapid tissue regeneration, have a choleretic, bactericidal, anti-diabetic effect, as well as normalize the functioning of the digestive tract. The roots of the plant are used as a diuretic, in case of kidney diseases and edema. They can be successfully used as a temperature-reducing, sweat-repelling agent, in case of a cold caused by an infection. They are also used to treat gout and joint rheumatism. Externally, the roots of the plant are used to treat skin diseases.
In folk medicine, burdock root is used in poultices, decoctions and extracts. An extract is often prepared in oil - used in case of ulcers, burns, bedsores; extract in pig fat - in case of eczema, acne, urticaria, furunculosis, scabies, burns, snake bites and bee bites. A decoction of rhizome oil is used to treat burns, wounds, frostbite, hair loss, and dandruff.
A decoction of the harvested leaves is rarely used to treat gastric and duodenal ulcers, kidney and liver stones. Fresh leaves can also be used fresh - by crushing them and putting them directly on top of burns, ulcers, wounds, bedsores and tumors. Decoctions of leaves and inflorescences are used for baths - in case of gout and rheumatism, and as compresses in case of joint pain.
A decoction of burdock seeds will be very useful in case of chronic constipation.
For men
Decoctions of the rhizome are used to treat prostate adenoma. Leaves are used to treat prostate adenoma, vesiculitis, prostatitis.