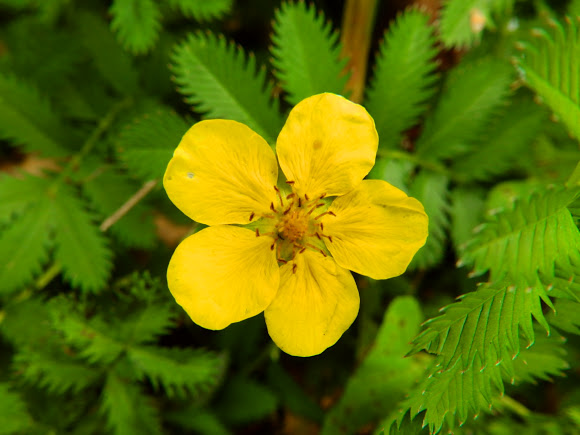 Silverweed is a perennial root plant with a shortened central stem and a rosette of rhizome leaves. The leaves are compound with elongated, inverted ovate or elliptic leaflets. The leaves are deeply lobed, green or greyish, silvery velvety on the underside. Flowers are solitary, golden-yellow in color, 1-2 cm in diameter on long flower stalks. The plant blooms in May-August. The seeds ripen in August-September.
The above-ground part of the plant is harvested throughout the flowering period, the roots in late autumn or early spring. Drying is carried out in a well-ventilated and shaded place, or in forced dryers: surface part <40C, roots <50C. The above-ground part of the plant can be stored in paper bags for 2 years, the rhizomes in a closed container for up to 3 years.
Silverweed contains essential oils (0.28%), alkalis (8%), proteins (17.6%), fibers (14.6%), tannins (up to 11%), steroid sitosterol, triterpenoid tormentoside, carotene, flavonoids, higher aliphatic ceryl alcohol, glucose, fructose, rhamnose, ellagic acid, leucoanthocyanid, anthocyanins, phenolcarbonic acids and their derivatives, quinone plastoquinone, vegetable fat (2%), which includes arachiic acid, ceritic acid, palmitic acid, myristic acid, linoleic acid, oleic acid, linolenic acid; catechins, epicatechins.
The leaves contain 260-297gm% vitamin C. Vitamin C and plastaquinone are found in the flowers. Up to 25% tannin and a lot of starch in the roots.
Medicinal significance
This plant is not used in official medicine, but it has found wide application in folk medicine. In folk medicine, it is used as an anticonvulsant, including for stiffness convulsions, for convulsions in children. The plant is also used to relieve tooth and headache pain, as well as against snake bites to reduce the effects of poisoning. Silverweed is a good helper for stopping bleeding, as well as an astringent anti-inflammatory agent for the treatment of diseases of the digestive tract (diarrhea, dysentery). The mouth is rinsed with the solutions in case of gingivitis and stomatitis.
In folk medicine, this plant is recommended for colds, inflammation of the mucous membranes of the digestive tract, non-healing and festering wounds, furuncles and other skin diseases, especially those associated with metabolic disorders.
Siberian folk healers use this plant as an anticonvulsant and antispasmodic. Decoctions of Silverweed are used to stop uterine bleeding, to reduce pain, in case of painful menstruation. For the treatment of kidney stone disease, as an antiemetic, in case of toxicosis of pregnant women.
Silverweed root helps with heart pain, herniated discs, tumors, prolapsed uterus, joint pain and epilepsy.
Concentrations and decoctions are used to rinse the mouth cavity to remove toothache, inflammatory processes in the mouth and throat, as well as to strengthen the gums.
For men
Used in mixtures to treat prostate adenoma, impotence, cystospasm.