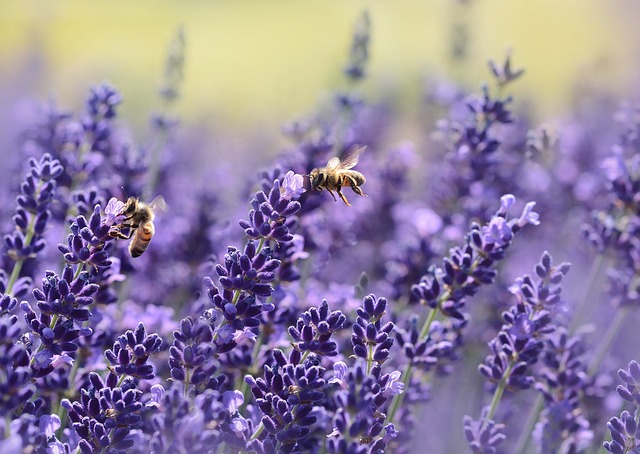 Lavender is a perennial, evergreen, thick semi-shrub, from 30 to 100 cm tall. The stem is branched, erect, often woody in the lower part. Leaves are opposite, sessile, elongated, silvery green. In mid-July, the tops of the branches are covered with small purple flowers, rarely white with a distinct, strong aroma. Lavender blooms for about a month. It is a very beautiful sight, especially when there is a lot of lavender. The plant is pollinated by insects. As the lavender fruit ripens, it opens and spills out yellow-brown seeds with a shiny surface. Lavender flowers contain essential oil, which is widely used in both official and folk medicine.
Several species of lavender are known, the most common of which is medicinal lavender or narrow-leaved lavender (Lavandula officinalis, Lavandula angustifolia, Lavandula spica, Lavandula vera), as well as broad-leaved lavender (Lavandula latifolia). Many species of lavender are cultivated forms that are grown in gardens around the world - medicinal lavender, broadleaf lavender.
The plant is harvested during its flowering period, when no more than half of the flowers on the spikes have opened. Inflorescences are cut with scissors, placed in a thin layer on sieves, in the shade. Lavender drugs are stored in iron or glass containers. The leaves and stems of the plant are collected at the same time. Lavender essential oil is obtained from fresh plants by steam distillation.
Lavender flowers contain 5% essential oil. It contains linalyl acetate (up to 50%), geraniol, cineol, borneol, geraniol, limonene, cedrin, phenol, acne, linalool, lavandulin, flavonoids, coumarin, triterpene compounds (ursulic acid), up to 12% tannins, bitter substances.
Ārstnieciskā nozīme
Lavanda spēj normalizēt oksidējošās iekaisuma reakcijas, pateicoties fermenta malāta dehidrogenāzes un laktāta dehidrogenāzes aktivitātes korekcijai, kā arī normalizēt eritrocītu membrānas caurlaidību.
Linalilacetāts ir lavandas ēteriskās eļļas galvenā sastāvdaļa, pateicoties kurai ir iespējama veiksmīga bronhiālās astmas ārstniecība. Lavandas eļļa tiek izmantota, lai ārstētu dažādas iekaisuma saslimšanas plaušās, nierēs un sirdī. Lavandu bieži izmanto, kā spirta uzlējumus, fitoaromātiskās procedūras, aerosoli un citi. Piemēram, kaimiņu zemē, Krievijā, lavandas preparāti ir oficiāli atzīti, kā ārstnieciski- gangrēnas, strutojošu brūču un dažādu ādas slimību gadījumā.
Vācijā lavandu pieņemts izmantot aromātiskajās vannās, lai pagatavotu dažādas ziedes. Bulgārijā lavandu izmanto, kā vieglu sedatīvu līdzekli, lai ārstētu neirastēnijas un migrēnas. Pēc Austrālijas zinātnieku pētījumiem, ar lavandas palīdzību var atbrīvoties no trauksmes sajūtas un nepamatotas baiļu sajūtas. Ir pat pētījumi par preparātiem uz lavandas bāzes (Silexan)- tā iedarbība uz trauksmes māktiem pacientiem ir efektīvāka, par ķīmiski veidotiem līdzekļiem. Lavandas līdzekļi iedarbojās par 20% efektīvāk par ķīmiskām alternatīvām.
Lavandas eļļai piemīt spēcīgas pretmikrobu īpašības. Tās var izmantot tvaiku inhalācijām, lai ārstētu bronhītu, traheītu, pneimoniju, balss aizsmakumu (arī laringītu).
Var ievākt arī svaigus ziedošus lavandas zariņus un no tiem pagatavot efektīvu novārījumu, lai ārstētu saaukstēšanās slimības, jo augs iedarbojas nomierinoši, antiseptiski un spazmolītiski. Aplikācijas un kompreses no lavandas palīdzēs tikt galā ar galvas sāpēm u migrēnu. Lavandas spirta uzlējumus lieto ja ir nespēks, ģīboņi, sasitumi un lai mazinātu sāpju sindromus.
Ar lavandas ēterisko eļļu var apstrādāt ilgi nedzīstošas brūces, apdegumus, pinnes, furunkulus un dermatītus. Lavandas ēteriskā ir praktiski vienīgā no ēteriskajām eļļām, kuru var lietot tīrā veidā uz ādas, negūstot no tās apdegumus. Ēteriskā eļļa labi jaucās ar spirtu un noderēs, lai sakoptu vietas, kur iekodis kāds kukainis.
Iekšķīgi lavandas novārījumus un spirta izvilkumus lieto, lai ārstētu neirozes, bezmiegu, vispārēju vājumu, tendenci uz pazeminātu asins spiedienu, neirastēniju, dažas no ādas slimībām un anoreksiju. Augs ir efektīvs arī urīna pūšļa iekaisuma un nieru slimību gadījumā. Regulāra lavandas lietošana palielina darba spējas, prāta spēju aktivitāti, noņem pārgurumu pēc garas darba dienas. Lavandas sīrups ir efektīvs gremošanas trakta slimību gadījumā (meteorisma un kolīta) un aknu slimībām. Lavanda palīdzēs arī sievietēm menstruācijas cikla laikā, ja tas ir sāpīgs, palīdzēs atgūt spēkus pēc ilgas slimošanas, asinsrites traucējumu gadījumā, kā arī mazinās pārāk sirds klauvēs.
Vannās lavanda ir ieteicama cilvēkiem, kuriem ir nepietiekama asins cirkulācija uz pēdām un rokām (tirpoņa un aukstuma sajūta). Skalošanās ar lavandas ūdeni dos možumu, īpaši guļošiem slimniekiem, noderēs arī lai padarītu zīdainu ādu sievietēm.