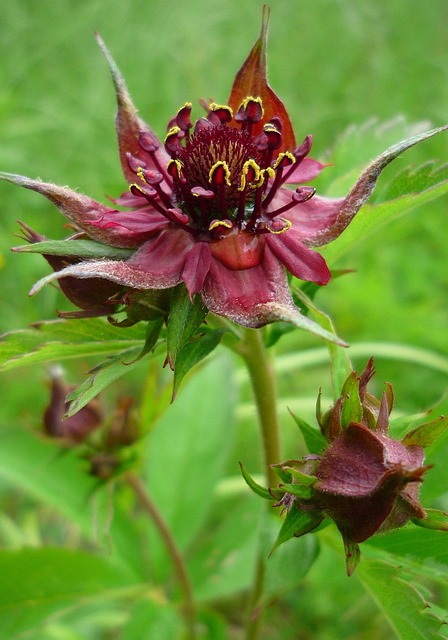 There is a woody, creeping rhizome up to 3 m long in the ground, from which grow thick stems rooted at the base with bent tops.
The leaves are complex, with 3-7 leaflets, the main petiole is shortened, so the leaves look like they are arranged in rays, but they are arranged in tufts. The upper leaves tend to be normal. The leaves are elongated, with sharply serrated edges, green on top, velvety, whitish on the underside.
Relatively large purple flowers, collected in shield-shaped inflorescences, open in June and July. In August-September, the seeds ripen, which grow into the calyx, being "wrapped" in it. Such fruits with seeds are interesting for birds, who usually like to eat them too!
The whole plant has a medicinal value, but the root of the marsh Cinquefoil has received increased attention. The plant is harvested in the second half of the summer, after being twisted a little and dried on sieves or in forced dryers not exceeding 40-50C. The finished drug is stored in a closed container.
It is important to remember that the marsh Cinquefoil is one of the bog-forming plants and disrespectful treatment of this plant can destroy the entire bog ecosystem. Its long and woody rhizome, with many roots, stretches for several meters, creating a strong twist and allowing other plants to grow in the marshland.
The whole plant is medicinal. Tannins in leaves up to 12%, stems up to 7%, root up to 10%. In addition to tannins, marsh Cinquefoil also contains polysaccharides, ascorbic acid, carotene, vitamin P, small amounts of phenolic compounds, organic acids, coloring resins and small amounts of essential oil. The plant also contains large amounts of potassium, calcium, magnesium, manganese, phosphorus and zinc.
Medicinal significance
The plant has anti-inflammatory, antibacterial, diuretic, diaphoretic, temperature-reducing, bleeding-stopping, pain-relieving and hypotensive properties. According to research, the marsh Cinquefoil can be attributed to anti-tumor plants. Currently, it is recognized in the official medicine of several countries - Japan, Korea, China and Mongolia.
Immunostimulating, anticoagulant and nephroprotective properties of the plant have also been determined. Phenolic compounds, which are good antioxidants, provide anti-inflammatory, analgesic and bactericidal effects of marsh Cinquefoil . Tanning substances have anti-tumor activity and also increase the elasticity of blood vessel walls.
In official medicine, the anti-inflammatory properties of marsh Cinquefoil are mainly used. Preparations made on the basis of marsh Cinquefoil are used to treat mainly diseases of the musculoskeletal system (arthritis, arthrosis, gout, rheumatism, radiculitis, post-traumatic condition).
The antibacterial properties of marsh Cinquefoil , along with its anti-inflammatory properties, can be used therapeutically to treat diseases of the digestive tract and respiratory tract.
Studies have determined that the marsh Cinquefoil has high antihistamine activity - its use may even be possible in case of allergies.
In folk medicine, marsh Cinquefoil is used much more widely. It is used in oncology, bleeding, also internal, mastopathy, gynecological diseases and other cases.
Due to its antihistaminic activity, marsh Cinquefoil is used to treat bronchial asthma and allergies, which are associated with the oversaturation of synthetic drugs in the body, as well as to treat lupus erythematosus and polyarthritis of rheumatoid infections.
Marsh Cinquefoil can be used to make infusions, decoctions and alcohol extracts at home. The root can also be subjected to the salting procedure. 2/3 of the jar is filled with finely chopped root, the rest of the volume is filled with salt, the ingredients are mixed. If necessary, the jar is closed.
Fresh and salted root can be used to prepare a bath, which will be useful for joint diseases.
It is not recommended to use this plant if there is an increased sensitivity to any of its components. It is also not used in case of hypotension, during pregnancy and lactation. This plant is recommended to be used no earlier than 18 years of age.
Marsh Cinquefoil is often prepared in alcohol, as an extract, therefore it should not be used by persons with severe liver problems, CNS diseases and those with alcohol addiction. In case of chronic diseases, it is advisable to consult a doctor.