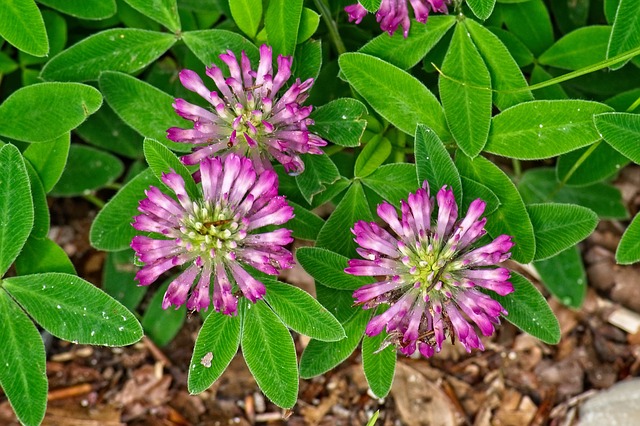 Perennial plant, with erect slightly bent stems with small white or violet-red flowers, which are collected in a bulbous inflorescence. The plant reaches a height of 20-60 cm. Blooms from May to mid-late September. A good honey and fodder plant. Improves soil composition by enriching it with nitrogen compounds. Widely used in medicine, more directly in dermatology.

Flowers and upper leaves are used for medicinal purposes. Harvest during flowering. Flowers with leaves are dried on sieves or in dryers at a temperature of 60-70C, care must be taken not to dry the drugs too much, in this way they lose their value. Flowers are stored in closed containers for up to 2 years, leaves for up to 1 year. In very rare cases, clover roots are also collected.
Clover has expectorant, diuretic, choleretic, diaphoretic, anti-inflammatory, anti-sclerotic, anti-toxic, and anti-tumor properties.
In folk medicine, inflorescences are used, and in rare cases also leaves. The plant is harvested at full bloom.
Medicinal significance
Clover is used for anemia, painful menstruation, prevention of arteriosclerosis, externally in baths in case of children's rickets.

Clover roots are used in inflammation of the ovaries and as a remedy for tumors. Fresh, mashed leaves are used (in the form of applications) to stop bleeding, in wound healing, in case of burns, abscesses, rheumatic pain. The juice squeezed from the clover will help well in the case of nail damage, skin tuberculosis, panaritis, hernias, ear and nose diseases. Clover tea is also used for severe respiratory diseases - bronchitis, bronchial asthma, chronic rheumatism, asthenia and kidney diseases.
Clover can also be used for dermatological purposes, it is used orally in the treatment of diseases caused by allergies and infection-allergies. It is used externally, in the form of applications, to heal burns and boils.
Baths are used to heal skin problems - allergy, perkeratosis, seborrheic dermatitis, psoriasis, furunculosis. Fresh juice or flower infusion is applied to the hair roots, thus preventing premature graying.