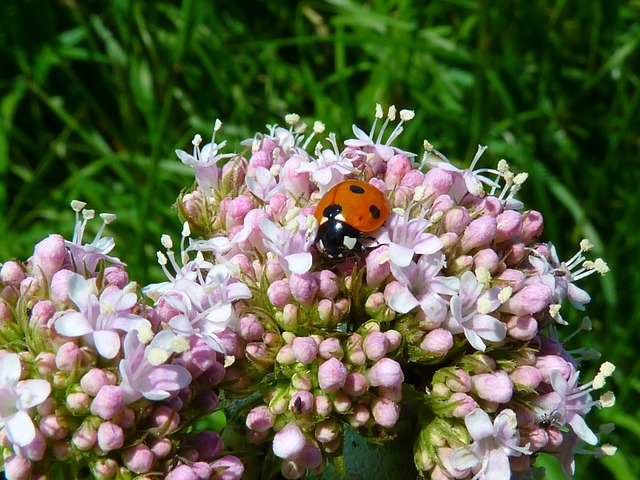 Valerian is a perennial plant up to 60-150 cm tall. The plant has a small root up to 1.5 cm long, with many adjacent roots. The rhizome and roots have a strong and distinct smell. The stem is erect, grooved, hollow, branched near the inflorescences. Its small flowers, arranged in umbel-shaped inflorescences, are white, soft pink or light purple in color. Roots of second-year leaves petiolate, upper sessile, lanceolate, divided into odd tufts, with 5-13 tufts.
Fruit - a grooved, elongated, egg-shaped, flying seed with a 2.5 to 4.5 mm length. The plant blooms starting from the second year, from June to August.
Valerian root and roots are used for medicinal purposes. The rhizomes and roots are harvested in autumn (after seeding in September and October) or early spring. The rhizomes with their roots, dug up and cleaned from the ground, are rinsed in cold, running water (this process must be quick). Rhizomes and roots are withered and dried in forced dryers at a temperature not exceeding 40C.
Valerian rhizome and roots contain essential oil (up to 2%), which consists of bornyl isovalerinate (basic part), valerian and isobaldrian acid, camphene, terpeniol, pinene, barneol, etc.; more than 10 alkaloids (valerine, actinidin, hatinine, etc.); for sugars, tannins, saponins, valeride glycoside, enzymes and organisms for acids: malic acid, acetic acid, formic acid, palmitic acid, stearic acid. Valepotriates have also been extracted from the underground part of the plant: valtrate, homovaltrate, dihydrovaltrate, acetoxyvaltrate, homo-acetoxyvaltrate, homodihydrovaltrate, valerosidate, deoxydihydrovaltrate, valtrahydrin; macro and micronutrients.

Medicinal significance
Valerian has a multifaceted effect on the human body. It acts as a sedative, calms the CNS, reduces its excitability, has an antispasmodic effect (reduces smooth muscle spasms). As well as valerian enhances the secretion processes of the digestive tract and the separation of bile.
Through the CNS, valerian also affects the heart. Valerian essential oil reduces the excitability caused by caffeine, prolongs the effect of sleeping pills, increases the activity of the cerebral cortex, has an inhibitory effect on the extended and middle part of the brain. The essential oil borneol has an effect on the cardiovascular system, improving coronary blood circulation.
Valerian preparations reduce reflex excitability in the CNS and have a depressing effect on brain neuron activity processes, improve sleep, and have coronary vessel dilating properties. The effect of valerian is noticeable slowly, but it is stable. The effectiveness of this plant can be observed when using it systematically and long-term, creating a therapeutic effect.
Valerian has been used since ancient times as a monopreparation, as well as as an ingredient in various complex remedies.
However, care should also be taken with valerian, as long-term use of this herb can cause digestive tract disorders, especially constipation.
In folk medicine, valerian has gained the fame of a sedative (sedative) agent, it is also used to improve and treat heart function and digestive tract function. This herb is also used during climacteric disorders.
Valerian root is used to make poultices for insomnia, hypertension, headache, asthma, fever, spasms and hysteria.