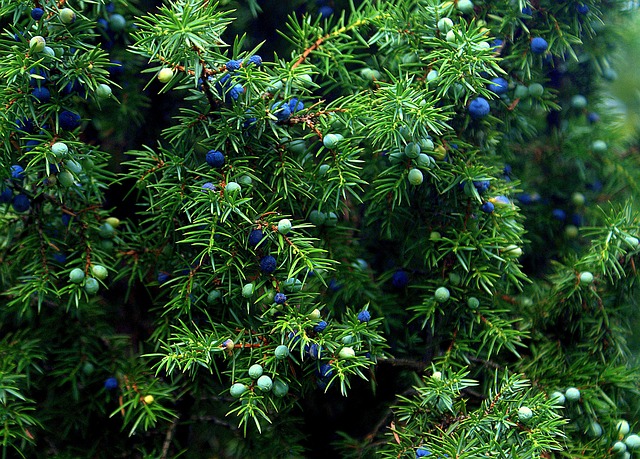 Evergreen, small shrub (0.5-3m) or small tree (5-8m), pyramidal shape. The lifespan of some specimens is 200-300 years. The trunk is branched with grey-brown tufted bark. The needles are elongated, 1-2 cm long, 1-1.5 mm wide, three-edged, spica, prickly with a white vein. Male spikes are yellow, rounded-extended, on average 4mm long. Female cones are round, grow one by one in leaf axils. Fruits - round cones, average 1 cm in diameter, fleshy, look like berries, so they can also be called "cones". They have a sweet-spicy taste and smell. In the first year, the fruits are green, in the second year they are black-blue with a bluish coating. The plant blooms in May. The fruits ripen in October-November.
Juniper berries are harvested for medicinal purposes. Collect them in autumn (October-November), covering them with juniper cloth. Dry in the fresh air, in the shade, it is recommended not to use dryers. Fruits are stored in a closed container for 3 years.
Juniper berries contain essential oils (up to 2%), the main component of which are terpenoids (alpha-pinene, cadinene, camphene, alpha-terpinene, dipentene, sabinene, borneol, isoborneol, alpha-phellandrene, juniper camphor, etc.), the berries also contain sugar (up to 40%), resins (up to 10%), organic acids (formic acid, acetic acid and malic acid), flavonoids, pectins (pentosans), vitamin C, dyes (juniperine), vegetable fats, wax and trace elements (manganese, iron, copper and aluminum). Podophyllotoxin, which has strong anti-carcinogenic properties, is obtained from juniper fruits. Vitamin C is also found in needles (up to 0.3%). Juniper bark also contains essential substances (up to 0.5%) and tannins (up to 8%), diterpene alcohols (ferruginol and sigiol) in the wood.
The fruit contains alkali (3.40%); macroelements (mg/g): K-12.70, Ca-7.00, Mn-1.00, Fe- 0.14; trace elements: Mg- 0.19, Cu- 0.46, Zn- 0.39, Cr- 0.46; Al-0.04, Se- 9.30, Ni- 1.35, Sr- 0.21, Pb- 0.03. Fruits do not contain: Co, Mo, Cd, Ba, V, Li, Au, Ag, I, Br. Ni and Se, especially Se, are well concentrated in the fruit.
Medicinal significance
Juniper plants have a diuretic effect, and anti-inflammatory and anti-microbial properties have also been observed. In medicine, juniper berries are used in poultices and decoctions, as an expectorant and digestive aid. Fruits are included in the composition of diuretic mixtures.
Juniper preparations are also characterized by choleretic, antipyretic and analgesic properties, as well as stimulating digestion. Essential oil provides the basic activity of juniper.
Common juniper is widely used in folk medicine as an infusion, decoction, extract, syrups and teas. Orally, preparations are used to treat cardiac edema, lung diseases, intestinal atony, flatulence and gallstones.